Complete Fish Feed Production Line
Complete Fish Feed Production Line Introduction:
Complete floating fish feed production line is the system to process all kinds of grains powder into high quality aquatic floating feed . the whole line incuding grinder, mixer, extruder, dryer, cooler, oil spray machine,packing machine which are connected by conveyors or elevators. The feed pellet can float on the water for 12 hours at least.by adjusting the feed formulation, also can make sinking feed pellet. The size from 1mm to 10mm by changing the moulds.
Raw Material required :
Flour,corn meal,soybean meal,maize meal ,meat meal,bone meal,fish meal etc.
Fitness: about 60-80mesh which were crushed and mixed Moisture content: about 20%-25%.
It is not only to make the aquatic floating feed pellet for fish,catfish,shrimps,crab.also can make pet feed for dog,cat etc with different shape and chicken feed.
Main Machine of the Complete Fish Feed Production Line :
1.Grinder:mainly used for grinding all kinds of raw materials like soybean,maize etc.
2.Mixer:mainly used to mix all kinds of raw material evenly, such as wheat meal, corn meal,sorghum meal,bone meal,meat meal and so on,it also can mix other micro- ingredients such as vitamins, amino acids, trace elements and other feed additives.
3.Fish feed machine:it is the main machine to make the raw materials into feed pellet .can be wet type and dry type feed pellet machine, if use wet type fish feed machine, the user should prepare the steam boiler.
3.Dryer: to reduce the moisture content of the feed pellet.
4.Cooler:to low the temperature after pellet drying with higher temperature.
5.Oil spray machine:use to spray oil onto the surface of the feed pellet. Which delicious for the food which can attract the fish to eat the pellet.Second it is better for storage.
6.Packing machine:
packing the finished feed pellet into bags,and 1-50kg per bag, it is more convenient for storage and transport.The process including filling,weighing,sealing.
7.Conveyors and elevator which are used between machines. It can save labour and make the line more automatic.
We can design and supply different capacity of the complete line according to customers' repquirements. Usually have 200kg/h,350kg/h,500kg/h,800-1000kg/h,2000kg/h.
Pictures of our Complete Fish Feed Production Line: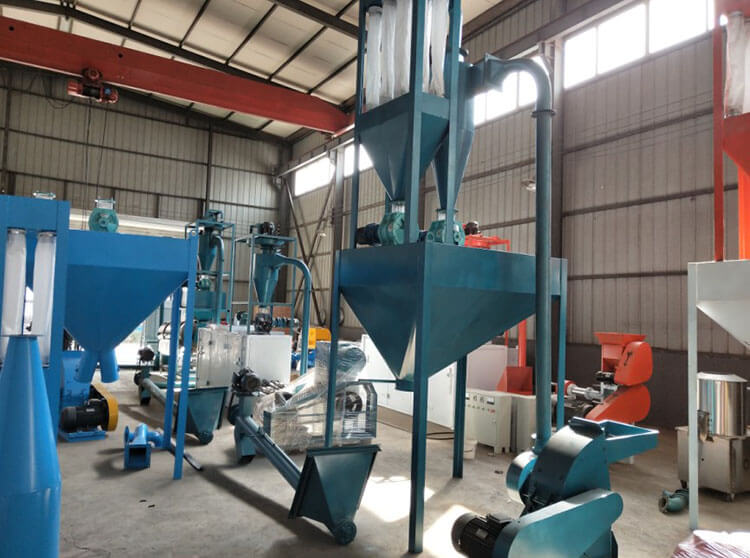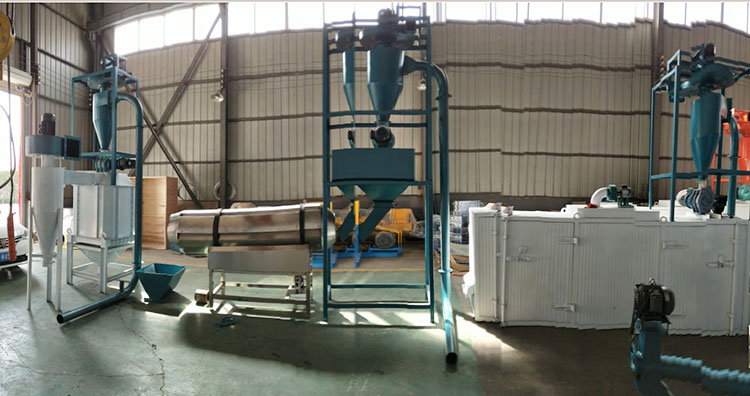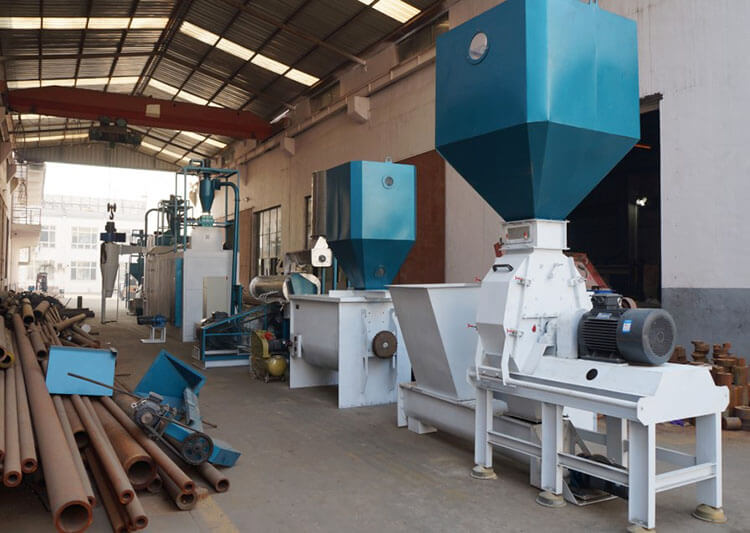 Inquiry
We not only provide a good product, but also provide high quality service. If you are interested in our products, you can contact us in the following ways.