Counterflow Pellet Cooler Machine
Introduction of this Counterflow Pellet Cooler Machine
This cooler machine was used for cool the high temperature of pellet and take away the moisture.
Counter-flow cooling,cool the pellets and lower humidity,after cooling the pellet temperature above room tempersture 3-5℃,precipitation rate =3.5%.
The Counterflow Pellet Cooler Machine Parameter
Model
SKLN11*11
SKLN215*15
SKLN19*19
SKLN19*24
SKLN24*24
Item
2
4
6
8
Capacity (t/h)
3
5
10
15
20
Cooling Time min
Less than 10-15Mins
Temperature after Cooling
Not higher than ambient temperature +3-5°C
Aspiration (m³/min.t)
34
Power (kw)
0.75
1.1
1.5
1.5
1.5
Power of Airlock (kw)
0.55
0.55
0.55
0.75
0.75
Features of this Counterflow Pellet Cooler Machine:
1. Suitable for cooling of various granular materials.
2. Airlock feeder was used for feeding to avoid the air crossing at the feeding inlet,result in good cooling effect.
3. Multiple pressure reducing the plate is equipped with discharging device.
Picture Showing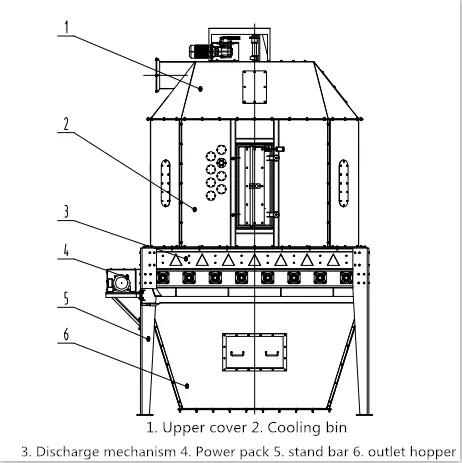 Inquiry
We not only provide a good product, but also provide high quality service. If you are interested in our products, you can contact us in the following ways.